When talking about Japan, what image does it give you? Cities of neon lightings? Or traditional shrines and Torii gates? Of course, both can represent Japan. It's a big country after all (Psst, it's bigger than the whole of the UK). But to me, there is another side of Japan that I really like and often overlooked by other people. It's the hybrid of Western and Japanese ideas.
Wayo Secchu: Combining the West and the East
The name of this hybrid is called Wayo Secchu (和洋折衷, lit "A compromise between Japan and the West"). This idea appeared after Japan opened herself to the outside world in the mid 19th century. Today, a hundred and fifty odd years later, you can still find Wayo Secchu items very often in Japan: for example, a sweet roll filled with red bean paste and a pasta dish called "Naporitan" which didn't come from Naples. You can also find Wayo Secchu design in some Japanese hotels where beds and chairs (instead of futon and cushions) are used inside a room with paper sliding doors and other Japanese deco.
A Wayo secchu style ryokan (Japanese hotel) I stayed in Amagasaki.
Background of Wayo Secchu
The Wayo secchu style was especially popular in the Taisho period (1912-1926). As Romanticism arrived Japan, the atmosphere of Japan changed: Ideas such as democracy and liberalism were widely spread. Art and literature thrived, many artists and writers emerged. The term "Taisho Roma" was coined to describe this period. As Japanese people embraced Western culture and ideas more, Wayo secchu fashion and interior design became more and more popular. A very distinctive outfit worn by young women was hakama (a pair of skirt-looking trousers) and butterfly bow on the head. This style was also worn by school girls as the time as school uniform.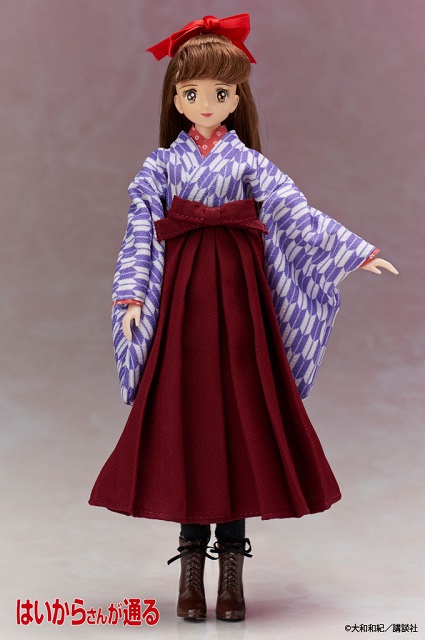 A modern doll dressed as a manga character of a story set in the Taisho period
Inspired Butterfly Bow
Inspired by the idea of Wayo secchu and such attire, I created by own modern version of butterfly bow accessories. I scaled down the bow and put the emphasis on the tsumami flower. I also used a range of cold colours instead of the warmer colours of Taisho fashion. This design is less "Romantic" but will fit in better with modern fashion.
Taicho-inspired Tsumami Kanzashi Hair clip (Frosty blue and dark blue)
That's all for today. I will be back soon and bring in more interesting stuff. Don't forget to follow us on Instagram or like our Facebook page for regular (almost daily) updates on our crafts and vintage finds. And of course, as always, you can see our full range of products in our shop.
See you next time.